Spring is a wonderful time of year to visit London, especially in May. As we near the beginning of summer, the days are often sunny and warm (comparatively). Whether you're spending a few days or a week in London, there's so much you can see and do in May. However, the city does have a rainy reputation for a reason and it's important to know what to wear in London in spring so that you can pack the right clothes and make the most of your trip.
This post may contain affiliate links for highly recommended products or services that I want to share with you!
---
How to Dress for London in Spring
Layers, layers, layers is the name of the game for dressing appropriately in London during the spring season. Because temperatures and winds fluctuate, you'll find locals wearing pants, sweaters, and thick coats on one day and t-shirts, leggings, and light jackets on another.
💡TIP: Londoners typically dress sharp, clean-cut, and effortlessly. While this may change based on area and personal preferences, you likely won't find locals wearing sweatpants, tennis shoes, low-cut clothing, and heavy makeup. Of course, it goes without saying that you should wear what makes you feel good and comfortable so do what feels right with this tip.
London Spring Weather
During the spring months, the weather in London can vary in temperature and rain. On average, temperatures range from around 52°F (11°C) in March to 64°F (18°C) in May. It also rains an average of 9-10 days during springtime, with April being the rainiest month with an average of 12 rainy days.
March: average high of 52°F (11°C) / average low of 39°F (4°C)
April: average high of 57°F (14°C) / average low of 43°F (6°C)
May: average high of 64°F (11°C) / average low of 48°F (9°C)
Keep reading to find out what clothes to pack for a London spring!
Essential Items to Pack When Visiting London in May
1. Coat
A coat is a suitcase staple when traveling to London in spring. You'll want a coat that will keep you warm in colder weather and is loose enough to fit multiple layers. You'll also want to opt for a neutral color so it has a high likelihood of matching with most of your outfits, including casual and dressier fits.
I wore my black coat repeatedly throughout my trip, which was perfect for cooler days and most evenings (please excuse my rained-on hair).
2. Jackets
In addition to a coat, I'm really glad I brought layer-able jackets for the warmer days. I brought a jean jacket and a black duster, both of which I wore multiple times throughout my trip.
I was lucky that I didn't need an umbrella throughout my trip because my accommodation provided one and it didn't rain for long stretches of time during my travels. However, if it had, I would have regretted not bringing a lightweight rain jacket. A rain jacket isn't a must-have (especially because truly rain-proof jackets will keep you dry but not warm) if you're okay with carrying around an umbrella but I personally hate having to constantly hold onto something while exploring.
3. Long-Sleeve Shirts (including Sweaters & Blouses)
Long-sleeve shirts are essential for layering. This includes dress shirts, sweaters, turtlenecks, and blouses. I'd recommend bringing neutral shirts with simple patterns and designs that are easy to mix and match and layer with other outerwear.
You can't go wrong with a classic black turtleneck, eggshell sweater, white blouse, or denim shirt. Personally, I don't like to pack thick sweaters and will favor long-sleeve shirts because they're easier to pack, style, and layer.
4. Short-Sleeve Tops
If you're traveling at the end of May near the beginning of summer, it may get warm enough to wear short sleeves. Whether you're traveling in warmer months or you're like me where 90% of your wardrobe is t-shirts and crop tops (hello from a native Californian), you can easily bring those items of clothing and layer them with other jackets or longer sleeves.
Black crop tops are a closet staple for me because they're so easy to dress up, dress down, and layer.
5. Pants
I find that it rarely gets hot enough to wear shorts in London and I always default to wearing pants for most of my trips to London. Jeans are always a classic but I find that most Londoners wear dress pants (or what look like dress pants) and trousers.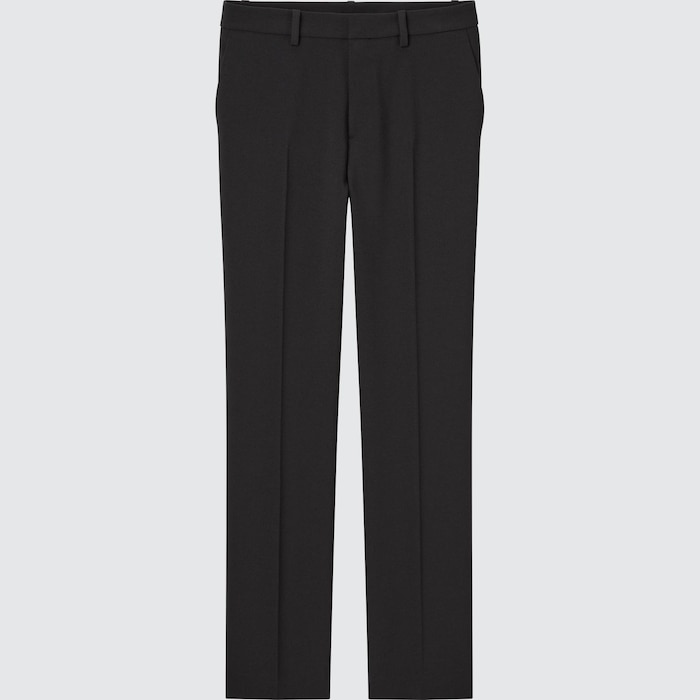 My favorite pants that I wore repeatedly throughout my trip were a pair of black pants and beige trousers that I bought from Uniqlo. Leggings are also nice to have in the event it's warm enough to wear out on their own – and they're easy to pack!
6. Shoes
I cannot stress the importance of bringing comfortable walking trips on any trip, but especially in London. You will be walking a LOT throughout your trip so you'll want to have shoes you can walk in for long distances (for context, I averaged anywhere between 15,000 and 30,000 steps a day!).
My go-to shoes for trips are my white Cole Haan sneakers. They are extremely comfortable and I find that they are incredibly easy to style as they work well with most outfits. You can also bring rain boots if your shoes won't hold up in wet weather.
7. Backpack (or Purse)
Since you'll be out and about for the day, you'll want to make sure you have a light backpack or purse that fits your travel essentials while you're out exploring. While I love my Lululemon Everywhere Belt bag, I find that it's better for trips where I'm out for a few hours at a time and not the whole day because it doesn't hold everything I need.
My favorite travel bags when venturing out for the whole day are my Rains backpack and the classic Longchamp tote. I pack both because I like that my backpack holds more (like my water bottle and light jackets) while my Longchamp is lighter and sufficient for days I don't have to worry about the weather.
Nice-to-Haves
For extra warmth: If you're planning on visiting London in March and April, you may want to pack gloves and scarves as additional layers to keep warm.
For rain protection: You can also bring an umbrella and rain boots if you have space. For what it's worth, I brought my rain boots but didn't end up wearing them since I only encountered light rain.
For sunny days: My eyes are UV sensitive so I never travel anywhere without my prescription sunglasses. While not essential for everyone, I've never regretted having them for those bright and sunny days.
London Packing List
Alright, now that we know what to bring, how should we go about packing? I've put together this neutral-style sample packing list so you know what clothes to pack for your trip to London. Note, the selected items and quantities are based on my recommendations for spending a week in London so feel free to adjust to your specific itinerary!
Coat (1). Your coat will be the outermost layer that will keep you warm.
Jackets (2-3). You'll want a few jacket options that are light, weather-appropriate, and layer-able. Some examples may include a denim jacket, a duster or long cardigan, and a rain-resistant jacket.
Sweaters (2). Pick sweaters that are easy to layer and mix and match with your other clothing items. My go-to's are a cream sweater and a black turtleneck.
Shirts/Tops (4-5). Since layering is the key, you'll want a healthy mix of t-shirts, long-sleeve shirts, and even tank tops for warmer days. White blouses where you can roll up the sleeves are always a classic as you can easily style up, down, and double as shorter-sleeved.
Pants (2). Bring a darker and lighter color pair of pants/trousers that make it easy to mix and match with your other clothes. Jeans are an optional pant choice, though they generally aren't as lightweight or breathable as other pant options.
Shoes (1-2). Pack your most comfortable shoes to prepare for tons of walking! If you're worried about your shoes getting wet and you have some extra space, rainboots aren't a bad option either.
Day Pack (1). You only need to bring 1 backpack or purse for your trip so pick whichever one will fit all of your daily essentials. I always like to have my water bottle, sunglasses, and camera with me so I like to bring a bigger backpack. This is a personal preference but I always travel with my Longchamp as well because it's easy to bring and there are days when I want to travel lightly.
Tips for Dressing for London Weather in May
It bears repeating that clothing is personal so you should wear what is comfortable and feels like you – the most important thing is that you respect the customs and norms of wherever you're visiting (i.e. it's more important to respect the queue or stand on the right on escalators than to figure out when/where you should wear a blazer). But, in case you're curious, here are some tips for dressing in London if you want to blend in a bit more.
Can you wear shorts in London in May?
I would not recommend wearing shorts in May. At best, the weather will be warm for just a few hours in the afternoon with the mornings and evenings being rather chilly. Truly, the key to surviving London spring weather comfortably is to wear layers. If you do want the option of wearing something shorter, you can always pack skirts or dresses that you can easily pair with leggings or insulated tights when it gets cold.
What shoes to wear in London in May?
100% prioritize comfort over style. You will be doing so much walking that you'll want to make sure your shoes are comfortable. I find that white sneakers fit the bill as they're both comfortable and easy to style with most outfits. If I have space, I'll also pack rain boots for those super rainy days. I stopped bringing flats on trips because I have yet to find a pair that provides enough arch support to last for the whole day.
Do Londoners wear leggings?
Yes! You'll find that women in London do wear leggings, typically in a casual setting. Generally, you won't find women wearing leggings on their own (outside of an exercise context) but more often paired with dresses or skirts. I also find that most women wear muted colors, opting for blacks and dark greys instead of brighter colors.
Does London have a dress code?
If you're from the Bay Area like me (or any other place where people tend to dress pretty casually), it may feel as though there's a dress code in London. But no, there isn't (unless you're going to a fancy dinner or evening event)! Rather, you'll find that people tend to dress smart casual – simple, understated, but stylish.
What should you not wear in London?
If you're trying to blend in and avoid looking like a tourist, then there are some guidelines to keep in mind:
Avoid revealing clothing. While you'll definitely see more skin at a club, you'll find that women tend to dress more reserved during the day, shying away from low-cut tops or dresses.
Sweatpants or exercise clothes outside of the gym. Even for the most casual Londoners, you'll find that they are dressed in jeans and a t-shirt. It's rare to see locals wear sweatpants out and about in public. The same goes for clunky tennis shoes.
High heels. Comfortable flats, loafers, and sneakers are king here! You won't find many women wearing high heels walking about because it's not comfortable for long periods of time. Instead, go for more sensible options like sneakers, boots, or flats instead.
---
I hope this helps answer your question about what to wear in London in May! As usual, feel free to leave comments if you found this list helpful or have any questions & I will always reply 😊